Protecting the Health of Our Citizens
Our public health team is focused on illness prevention, health promotion and health protection for all of our community and families. Currently our team includes Public Health Nurses (PHNs), Community Health Representatives (CHRs) and a medical driver who assists in delivering patients and programs. Much of our work happens in the Centre, but we often provide aid in other spaces in our community, such as homes, schools and workplaces.
We offer a wide range of health and wellness care. We keep the community safe by providing everything from immunizations and mom and baby visits, to flu clinics and environmental inspections of mould, water and sewage. Our education programs include topics such as baby nutrition and development, fetal alcohol spectrum disorder (FASD), sexually transmitted infections, and diabetes management – just to name a few.
Public Health programs include:
HIV/AIDS, Disease Prevention
Prenatal Program
Mental Wellness Programs
Environmental Health
Primary Care
A Cultural Focus for Our Members
We are always creating more culturally-focused health initiatives to help our Citizens and families live healthy lives. If you have health issues or questions of any kind, join us at the NCN Family and Community Wellness Centre or visit the nursing station. We will be happy to help you!
Immunizations & Vaccinations
Do Your Part for a Healthy Community
Immunizations and vaccines are voluntary in Manitoba, but we urge our Citizens of all ages to keep their vaccines current. When people in our community maintain their best health through immunizations, our "community immunity" is stronger, which helps to protect our weak and vulnerable, such as our Elders and babies.
Last year, about half of our community's babies received all of their vaccinations. We hope to improve this number for the health of our community. These needles are safe, fast and easy. It will be over before your baby knows what is happening!
Our public health team provides all immunizations and vaccinations that are currently recommended for every stage of life. These shots can prevent deadly diseases, sexually transmitted infections, and even the dreaded winter flu. We advertise throughout the community when we have clinics available. Please do your part in keeping our families healthy!
Aboriginal Diabetes Initiative
Managing Your Diabetes
As you know, diabetes is a rising concern in our community. Our public health team delivers education, activities and clinics to help everyone manage their diabetes. When you know how to take care of your body, it is possible to live a happy life with diabetes. Let us help you.
The first step to fighting this disease is education. We conduct workshops in our schools, youth centre and the Wellness Centre to teach people about physical fitness and healthy shopping, cooking and eating. Access to fruits and vegetables is so important for good nutrition, and our public health team has helped our community create 28 gardens annually!
People with diabetes have individual care needs. We offer home visits, foot care referrals and retinal screening. If you are caring for a family member with diabetes, we can support you, and provide education in Cree as required.
Exercise and physical wellness is crucial to avoiding diabetes and maintaining your health after a diabetes diagnosis. The gym in our Wellness Centre is free for members! Stop in for a visit to get started.
Maternal/Child Health
Caring for Our Most Precious Citizens
Our public health team cares, especially for our smallest community members even before they arrive! We provide help for mothers throughout pregnancy and for the years after baby's arrival, including a prenatal nutrition program, breastfeeding support and home visits. For families with more complex needs, we can provide individual case management and support.
An important part of our Maternal Child Health program is the Manitoba First Nations Strengthening Families Program. This voluntary program helps our families live balanced, healthy lifestyles with access to holistic care. It uses a strength-based empowering approach, grounded in First Nation culture to promote healthy children, fathers, and women through every stage of motherhood (preconception, prenatal, birthing, postpartum).
It is difficult to care for a newborn baby. Many mothers feel overwhelmed, scared, frustrated and tired. Our public health team can give you the support you need to be a great parent. Sometimes all you need is someone to listen or offer guidance. We can do that, too.
STAR FASD Program
Providing FASD Assessment, Diagnosis and Education to Families
The Success Through Advocacy Role Modeling – Fetal Alcohol Spectrum Disorder (STAR FASD) program aims to reduce the number of babies exposed to alcohol and/or drugs while in their mother's womb and to assist families affected by FASD.
We create positive, supportive long-term mentoring relationships with women who have used substances during their current or recent pregnancy. These women are encouraged to make changes in their lives for the health of their children and betterment of their families.
Women are guided in harm reduction strategies, linked to community resources to reduce isolation and encourage family participation, and educated about the effects of alcohol and drugs. We also connect families to professionals for efficient FASD assessment, diagnosis and care plans and offer regular educational programs and FASD awareness events in the community.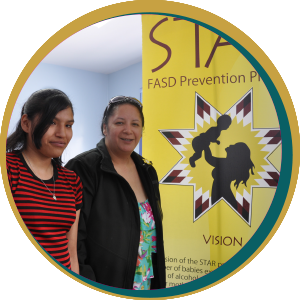 Medical Transportation Program
Driving You to Good Health
It can be difficult to keep appointments or make progress with care plans when you have limited or no access to transportation. The Medical Transportation team is here to help! Our team can get you where you need to be so your health can remain a priority.
You might be surprised by the efficiency of our drivers. Every day, our team makes four trips to Thompson! We serve more than 45 people weekly and on weekends. Over the course of one year, almost 10,000 trips are made to transport NCN Citizens safely for local and out-of-town medical appointments arranged by truck, van and aircraft.
Call us to arrange your transportation appointment.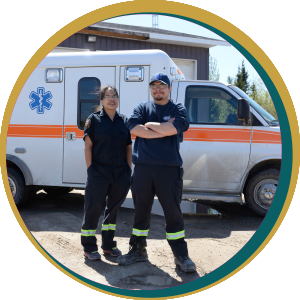 Nursing Station
Medical Attention When You Need It
Because of our Cree Nation's remote location, the NCN Nursing Station directly in Nelson House is an integral part of our community's health and safety. Our team of nursing professionals provides immediate emergency medical attention, health care and immunizations to our community members. For more severe injuries and medical conditions, our Medical Transportation drivers transport patients to Thompson or Winnipeg.
For medical attention or more information call:
204-484-2031