Message from the CEO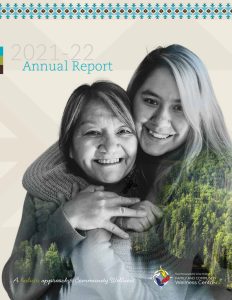 I am pleased to present the 2021-22 Nisichawayasihk Cree Nation Family and Community Wellness Centre Annual Report.
The summaries here present the successes, and challenges, of our incredible range of programs and services here at home, and at our locations in Thompson, South Indian Lake, Leaf Rapids, Brandon and Winnipeg. They also serve as a guide to propel all of us into a brighter future.
I must acknowledge that COVID-19 continues to affect our community. While vigilant lockdown measures kept our Citizens safe as the virus ravaged the planet, it did eventually gain a foothold here this summer. Thanks to our incredible community vaccine rate, our excellent public health team, and the willingness of our Citizens, we brought our numbers down again.
In fact, as we work to understand how the pandemic is affecting our Citizens, their ability to heal and our ability to help, I have realized that perhaps the most important characteristic for us to foster is a strong sense of adaptability.
Being flexible and optimistic is crucial in times of change, whether it's pandemic regulations, self-care in the face of a physical ailment, a new challenge in family life, or the stress of unemployment. This year has been a cautious return to normal programming. No matter the focus, we teach our clients strategies so they can "go with the flow", and our employees also use this philosophy as our programs evolve to meet the needs of our community.
Now more than ever, we understand that the key to navigating a healthy life successfully is staying attentive and adaptable.
FCWC programs enhance the strength and spirit of our families, by relying on the deep compassion and expertise of our staff, the wisdom of our Elders, and the encouragement and support from NCN Chief and Council. As we move forward, I have great confidence that the Centre's board and staff will work collectively to develop innovative, integrative strategies that will continue to improve the lives of our Citizens.
Our aim for FCWC services is that they are culturally based, holistic, and acknowledge the important roles of self-determination and community responsibility.
To achieve this, your input as a community member is always valuable. If you have ideas to improve the overall lifestyles and safety of our people, and to reconnect individuals and families with paths to healing and better living, let us know.
Felix Walker
CEO, Nisichawayasihk Cree Nation Family and Community Wellness Centre
View the 2021-22 Annual Report for the NCN Family and Community Wellness Centre.