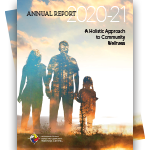 We have completed our Annual Report for the fiscal year of 2020-2021.
Read the complete report here.
Please note: Financial Statements for the 2020-21 reporting year can be requested by contacting the NCN Family and Community Wellness Centre Inc.
---
MESSAGE FROM THE CEO
Tansi. It is time to reflect on the many activities of the NCN Family and Community Wellness Centre. Of course, this has been a year like no other, as the COVID-19 pandemic continues to be a long, frustrating road. While we have come to understand the virus and how it operates, the constant vigilance, lockdowns and restrictions have left many of us tired and sad.
Despite these difficulties, I urge you to see the incredible success stories all around us. Our vaccination rate in Nisichawayasihk Cree Nation is an amazing 92.3%. Our Citizens have overwhelmingly
agreed to trust science, medicine and our leadership and to do what they can to protect our most vulnerable.
We had our first active case on-reserve in December 2020. Our health team sprang into action with contact tracing and strict stay-at-home orders. What an incredible sense of pride we've all had as we've been able to contain the virus and limit its spread to 55 total cases on-reserve (as of October 29, 2021). That said, at this time of writing, we have two active cases in the community. We must remain cautious.
In fact, at this point in the pandemic, the most overwhelming emotion I have is pride. Our FCWC professionals have found innovative approaches to crisis planning, operational and administrative
processes. Some of our social services were temporarily halted due to provincial mandates, and some had to continue on as they were considered essential services.
Many staff have worked incredible amounts of overtime, including weekend work and double shifts, delivering cleaning supplies and personal protective equipment to Citizens, working vaccine clinics, and ensuring the safety of all. I am so grateful to every FCWC employee, for the dedication they continue to show to our NCN community and families.
While things can change quickly during a pandemic, and they have, everyone at the FCWC is excited to be resuming regular programming, with necessary changes. We're getting ready for you and your
family, because you've also had time to reflect on the importance of wellness and holistic health. Remember, all of our programs are free! Let's work together to find your best supports, so that whatever the future holds, you're mentally, spiritually and physically ready.
Felix Walker
CEO, Nisichawayasihk Cree Nation Family and Community Wellness Centre