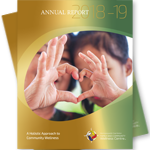 We have completed our Annual Report for the fiscal year of 2018-2019.
Read the complete report here.
Please note: Financial Statements for the 2018-19 reporting year can be requested by contacting the NCN Family and Community Wellness Centre Inc.
MESSAGE FROM THE CEO
Tansi. It is time to reflect on another year at the NCN Family and Community Wellness Centre. This annual report outlines the goals, objectives, highlights and challenges of the programs that help our community's families recover, stabilize and thrive.
Nisichawayasihk Cree Nation is considered one of the most innovative Nations in Canada, thanks to developments such as our new constitution and land code. I am pleased to tell you that after almost 20 years of groundbreaking care programs, our Family and Community Wellness Centre has also gained an impressive reputation.
For example, the Removal of Parent program continues to show impressive results and attract attention across the country. It proves that when given the opportunity to solve our own problems, we can break the cycle of trauma and set a course for future success.
During the daily non-stop rush of activity at our Centre, it is difficult to stop and consider our accomplishments. I am grateful for the opportunity to do so now, because what our dedicated staff achieve for our Citizens and community is truly impressive. Every day of the year, our staff in Nelson House, Thompson, South Indian Lake, Leaf Rapids, Brandon and Winnipeg work diligently to improve every aspect of our Citizens' lives.
Of course, in 2018-19 we have highs and lows to report. We received word from our elected leadership that the community will have a new Health Centre in the near future. As we look toward the changes on the horizon, we will plan for a shift to have public health services delivered in the new centre, while child and family wellness services are expected to be provided at the existing Wellness Centre. The Nisichawayasihk Cree Nation Family and Community Wellness Centre Inc., as it has been known for nearly two decades will no longer exist in the same capacity. The nationally recognized innovative model of excellence of integrated service delivery will also be transformed by the government and is expected to be managed by NCN constitution and laws. Many administrative, financial and logistical plans will be worked on in the coming years. These changes will mark a new era for provision of wellness services. In the meantime, our departments are collaborating more efficiently than ever, using the proven existing model and Circle of Care process to create healthy individuals and families. We are hopeful that the expanded facilities will carry on the excellent services and programs, while maintaining the level of care NCN Citizens have depended on.
You might be amazed at all the ways the FCWC can support a family with the dream of balance and holistic health. For the first time, we have compiled a Wellness Guide that outlines all of the programs and services available to NCN Citizens. These supports can help you emotionally, mentally, spiritually, and physically… and they're free. Pick up a copy today!
Felix Walker
CEO, Nisichawayasihk Cree Nation Family and Community Wellness Centre